How do I sign up for or log into the wholesale store?
Overview
Thanks so much for your interest in Particle! If you are here, it means that you are looking for help with signing up for or logging into your Particle wholesale account. A Wholesale account will help you get preferred or bulk pricing, volume discounts, and other exciting offers. The information below will help you better understand which customers our Wholesale store may be right for, as well as how gaining access works.
A Wholesale account will help you get preferred or bulk pricing, volume discounts and other exciting offers through our bulk purchasing portal called the Particle Wholesale store. Learn more here.
Wholesale account application overview
You can find the Wholesale sign up page here to submit an application. Please note that at this time we are not presently accepting new applications for contracted new distributors with negotiated contractors or term sheets. However, Wholesale store corporate accounts and wholesale store distributor applications are still being processed and approved.
Below is a screenshot of what you should see to sign in or sign up for our Wholesale store.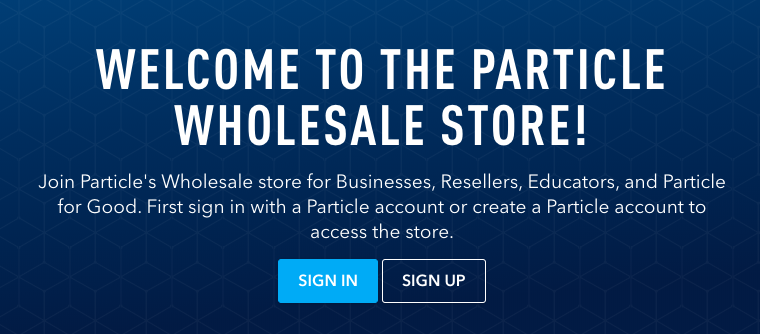 Wholesale account types
Our Business customer category contains our standard bulk pricing and bulk format products. If you are a product creator, choose this option. The processing of your application may take up to 2 business days.
Distributors are our reseller network. Our application process requires relevant business information and - during periods where we are actively accepting and reviewing new applications - will take up to 1 month to process. We may ask you to provide proof of your reseller status and reserve the right to decline any distributors. Please note that we are not currently processing or accepting any new distributor applications at this time.
Particle For Good contains our preferred pricing for non-profits, educators, and those committed to making a positive impact. To learn more about the Particle For Good program and to apply to be apart of this program, please visit the P4G site.
Creating a Particle account
To create a Wholesale Store Account, first, you will need to create a Particle Account. Our new Particle Account page is also a very useful tool for checking general account information or logging out for customers with multiple accounts. Below is a screenshot of what you will see, click sign up to create a new account.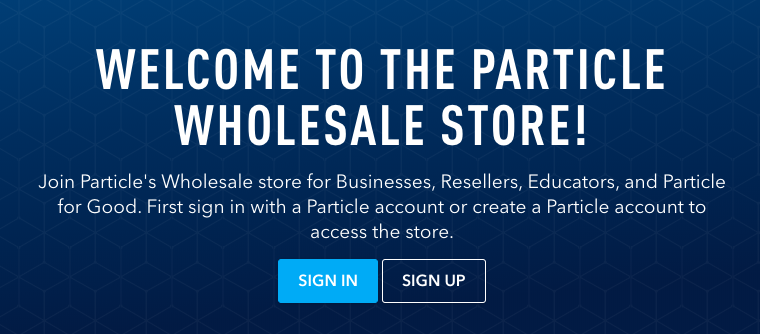 Next, you will be asked to enter your email address, first name, last name, password, account type, and company name. Once you agree to our Terms of Service and Privacy Policy
After you complete this process, your Particle Account will be created, and then you can proceed with the Particle Wholesale Store Application process to continue to the next steps to create your Particle Wholesale Store Account.
Wholesale store application process
From wholesale.particle.io, click "Sign Up." On the next screen, you will be logged in with your Particle account. Then, please select the button marked "Apply Now" to select from the drop-down our 4 categories for Wholesale store accounts.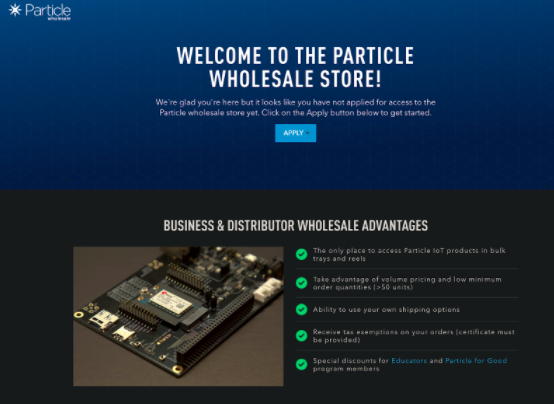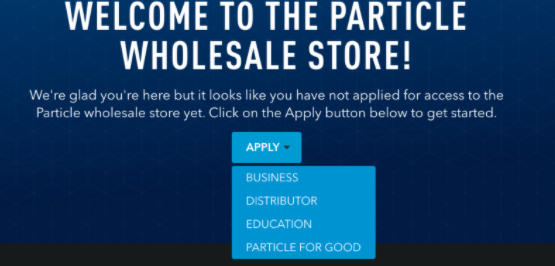 Once you select your appropriate category, you will then be directed to enter the relevant information that relates to your respective category. All of this information will then be added to your application and submitted to our team for consideration and approval if you meet the appropriate criteria with supported required documentation or certifications.
Once you have created your Particle Account and submitted your Particle Wholesale Store Application - Congratulations! You are in consideration and close to becoming an official Particle Wholesale customer. You will receive an email confirming your application on your registered email from Particle Wholesale.