What payment methods can I use at checkout?
Payment methods
While the Particle retail store only accepts payment via Credit Cards at this time, the Wholesale store accepts the following payment methods:
Credit Cards - We accept Visa, Mastercard, American Express, and Discover credit cards.
Manual Payment (ACH - US / Wire Transfer - Non-US) - We can accept ACH payments/wire transfers on orders over $2,500, or for customers with prior approval from the Particle team. Payments made via ACH will be due to Particle prior to shipment of the order.
Paying with a credit card
On the Payment page of the checkout process, you will select "Credit card" as your payment method. You will then need to fill in the appropriate credit card information in the fields you see below.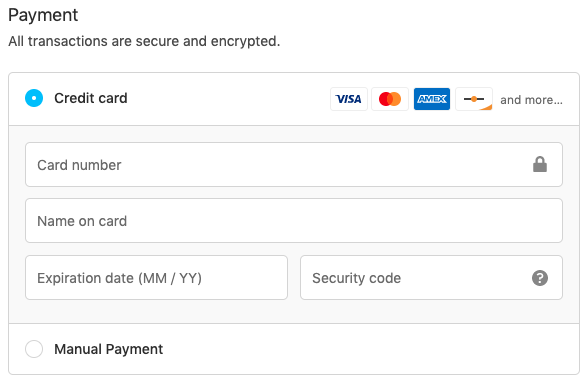 Paying via ACH (US) or wire transfer (non-US)
The Wholesale store offers the option to pay using ACH, also referred to as Manual Payment, on any order over $2,500. If you are a customer who has a signed contract with Particle, you may be eligible to select ACH as a payment option on all orders to receive your negotiated payment terms.
When you select "Manual Payment" at checkout, your payment will be given "Due On Receipt" terms, meaning that your payment is due as soon as you receive your invoice from us and that you will be required to submit payment prior to your order being shipped. If we do not receive your payment within 7 business days of sending you your invoice, your order will be automatically canceled.
In the wholesale store, you will see the below message upon selecting "Manual Payment" at checkout: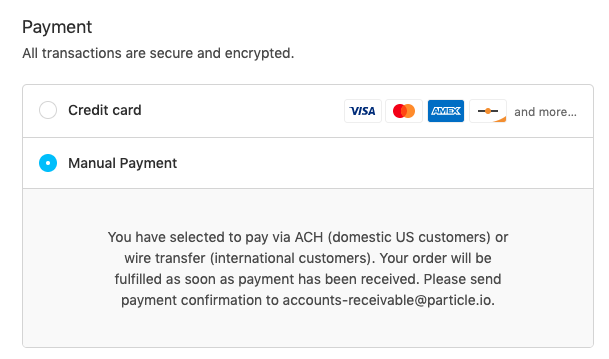 After making this selection and reviewing the message above, please take note of the payment routing instructions on the order confirmation page.
After confirming that your entire order is in stock and available to ship, a member of the Particle team will send you an invoice for your order amount to the e-mail address associated with your Particle Wholesale account. Once you receive this invoice, you should process payment and send a payment confirmation to accounts-receivable@particle.io.
Selecting the Manual Payment option at checkout means that you agree to cover any payment transfer fees associated with this payment option, and that Particle may bill you upfront or retroactively for any such fees.