Vehicle power
While the Electron, E Series, and Boron have power supply inputs that will accept 12V, it's best to avoid connecting the VIN power input directly to a vehicle electrical system. There may be voltage spikes that exceed the absolute maximum limits of the device and cause damage.
There are many possible designs, but we like the OpenXC Platform designs. These were created by Ford and open-sourced specifically for using microcontrollers in vehicles.
The design includes a 5V output which can be used across all devices, including the Photon, P1, Argon, and Xenon as well as the Boron, E Series, and Electron.
This shows the unregulated 12V (top), 5V regulated (middle), and 3V3 from a Boron (bottom):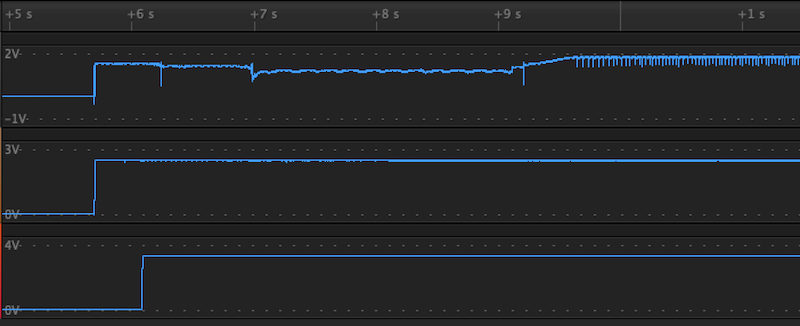 You can download the files associated with this app note as a zip file.
Design 1
This design is almost exactly the OpenXC power supply design. It's built in an Adafruit Feather form-factor because it's useful for prototyping new designs and you can easily swap between cellular (Boron) and Wi-Fi (Argon). The design is easily extracted to make it part of your base board for an E Series or B Series SoM as well. Design 3 is an alternative way to lay out this design.
Schematic 1
This is the standard design schematic:

Of interest:
A SZ1SMB16CAT3G TVS diode protects against large voltage transients.
A RS1JFP is the reverse voltage protection diode.
This version uses a LM340 linear regulator. It's rated for 1.2A.
There are a number of capacitors to smooth out the power.
Input components are rated for 35V.
This power supply can be used for:
Any Wi-Fi based device.
Any LTE cellular device (E Series LTE, Boron LTE, B402 SoM).
Any cellular device that also includes a Li-Po battery backup.
In other words, 2G/3G cellular devices need to have a Li-Po battery when use with the 1.2A power supply. Design 2 has a higher current rating and can be used without the Li-Po battery.
BOM 1
Board 1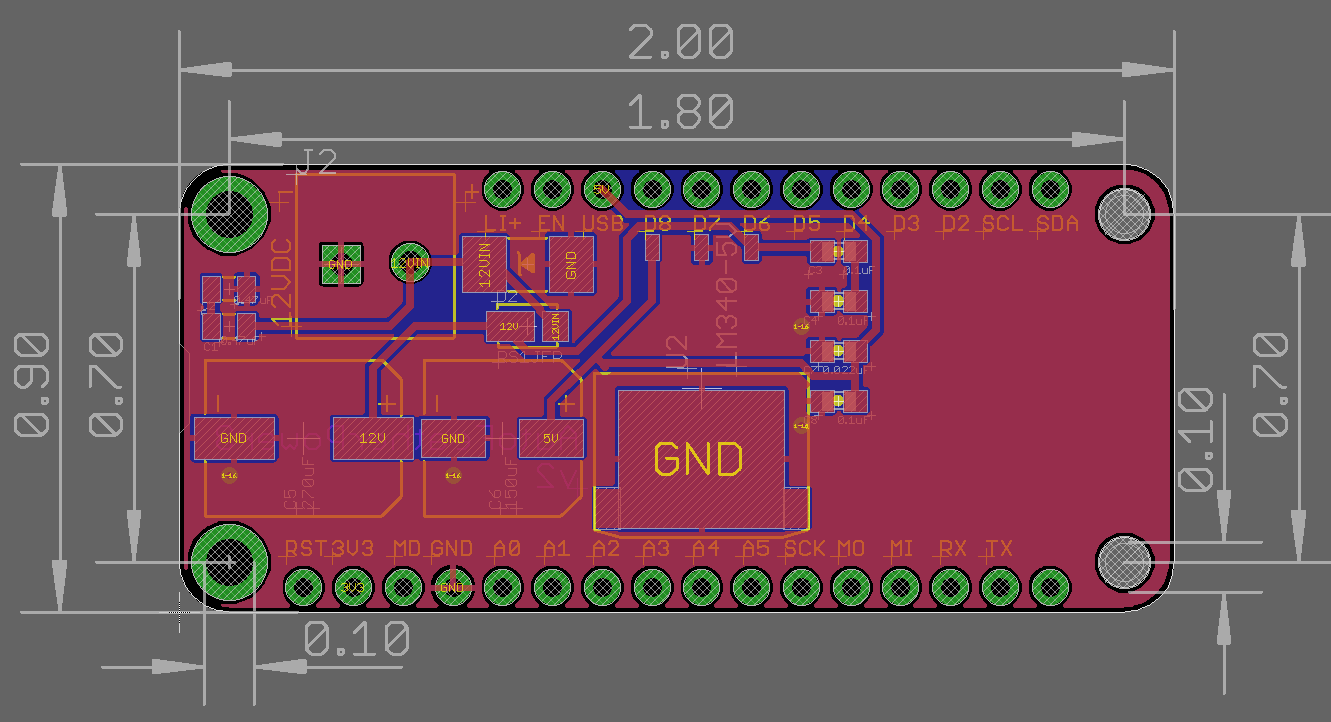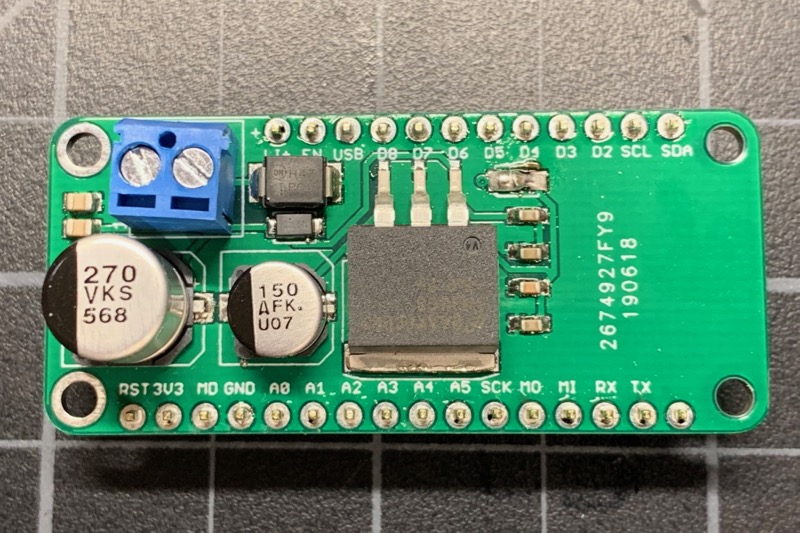 Design 2
Schematic 2

This version uses a Semtech TS30042 2A switching regulator. This is more efficient, and has sufficient power for any Particle device with or without a Li-Po battery.
If you are hand-assembling boards, the regulator in Design 1 is much easier to solder. The pads on the TS30042 are quite small and are blind on the bottom, making it harder to align.
BOM 2
Board 2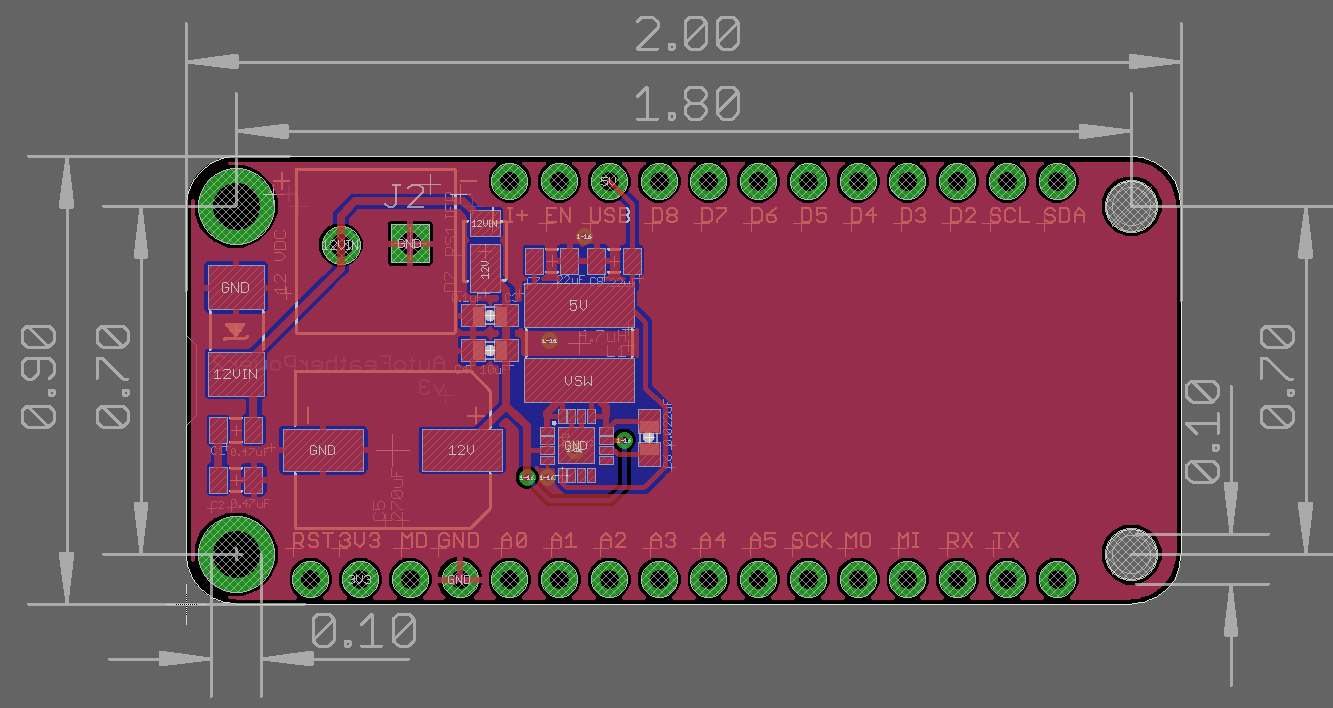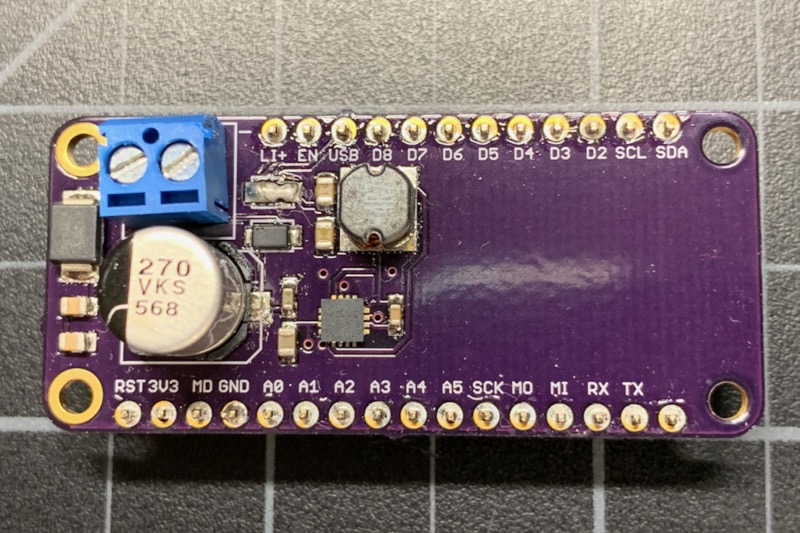 Design 3
This is design 1 (LM340 linear regulator), but with the components shifted around. It's a Feather Doubler that includes a power supply on the base board. You might use this with a Boron and an Adafruit Ultimate GPS, for example.
It also uses through-hole capacitors. There's really no advantage to doing it that way, but it is an option.
Schematic 3

BOM 3
Board 3