SparkFunMAX31855k (community library)
Summary
Library for SparkFun K-type thermocouples
Library Read Me
This content is provided by the library maintainer and has not been validated or approved.
MAX31855K Thermocouple Breakout (Particle Core & Photon Compatible)
Particle Notes
This library contains the firmware files requires to use the SparkFun MAX31855K Thermocouple Digitizer Breakout with Spark Core & Photon Boards.
Assumes the use of Hardware SPI, which is configured in the following manner for Particle boards:
A2 : SS(Slave Select)
A3 : SCK(Serial Clock)
A4 : MISO(Master In Slave Out)
A5 : MOSI(Master Out Slave In)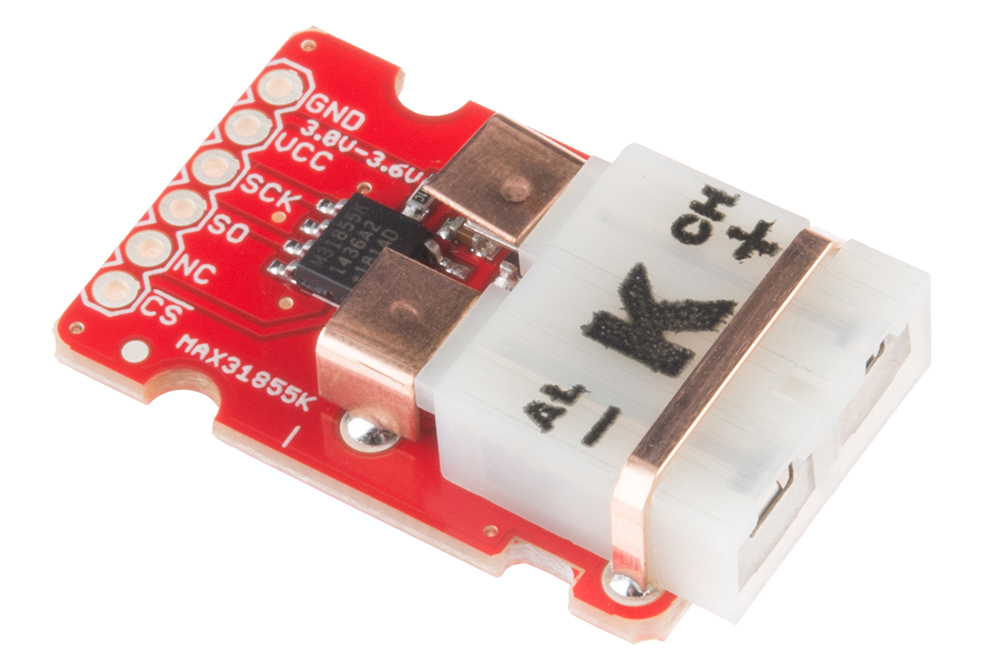 The MAX31855K IC takes a standard k-type thermocouple in one end, digitizes the temperature measured and sends that data out the other end via SPI.
This part was created in Eagle v7.2.0.
Repository Contents
/Hardware - All Eagle design files (.brd, .sch)
/Libraries - All Arduino libraries and board examples
/Production - Test bed files and production panel files
LICENSE.md - The license this library is distributed under.
README.md - This file!
Documentation
Product Versions
SEN-13266 - K-type thermocouple digitizer breakout board
Version History
v1.0 MAX31855K Thermocouple Breakout
License Information
This product is open source!
Please review the LICENSE.md file for license information.
If you have any questions or concerns on licensing, please contact techsupport@sparkfun.com.
Distributed as-is; no warranty is given.
Your friends at SparkFun.
Browse Library Files