Particle Electron: Cellular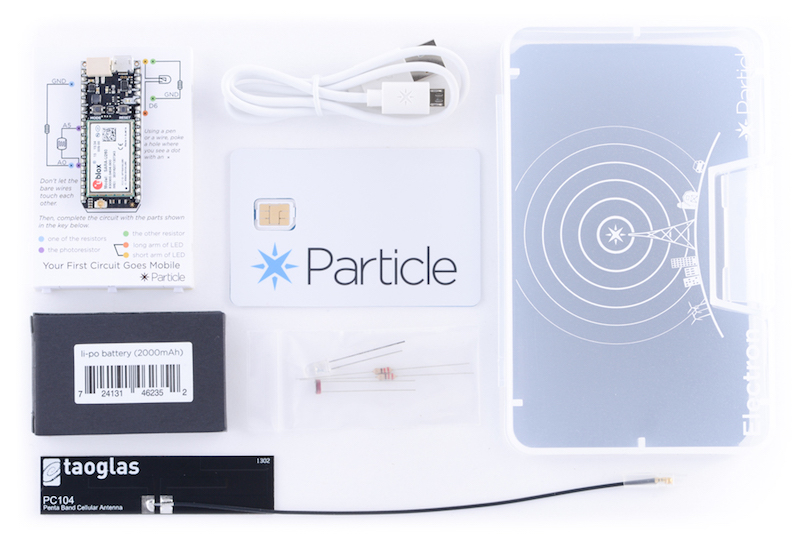 The Electron is a tiny development kit for creating 3G cellular-connected electronics projects and products. It comes with a Particle SIM card with service in more than 100 countries worldwide.
Electron 3G hardware specifications
Main processor:
STM32F205 ARM Cortex M3 microcontroller
1MB Flash, 128K RAM
Cellular radio
NOTE: The Electron comes in three different versions with different u-blox cellular modems.
3G for Americas and Australia
3G for Europe, Asia, and Africa

2G for global coverage
u-blox SARA U-series (for 3G Electron versions)
u-blox SARA G-series (for 2G Electron versions)
For availability in specific countries, see the cellular carrier list
General specification:
36 pins total:

28 GPIOs (D0-D13, A0-A13)
TX/RX
2 GNDs
VIN
VBAT
WKP
3V3
RST

Board dimensions: 2.0" x 0.8" x 0.3" (0.5" including headers)
Device cloud
Access to the Device Cloud includes: 3MB of cellular data per device/mo (additional data $0.40/MB for most countries) First 3 months of Device Cloud FREE ($2.99 per device/mo after) Device Cloud Features:
Device Management

Over the Air Firmware Updates

Fully Managed Connectivity

Developer Tools

Integrations